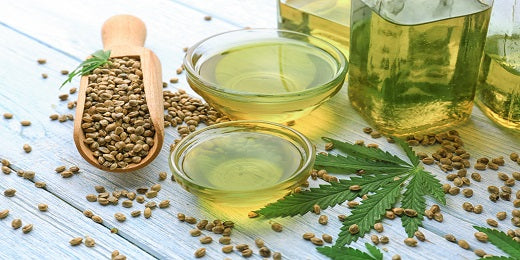 Hemp seed oil is made by cold-pressing the seeds of the hemp plant. It is a clear, greenish-golden colour and has a nutty, earthy flavour. It is high in polyunsaturated fatty acids, including omega-3 and omega-6, and is also a good source of vitamin E, magnesium, and zinc.
Hemp seed oil has a variety of potential health benefits. The high levels of omega-3 and omega-6 fatty acids in the oil may help to reduce inflammation, lower cholesterol, and improve heart health. The vitamin E in the oil is an antioxidant that may help to protect the skin from damage caused by UV rays, while the magnesium in the oil may help to improve sleep and reduce symptoms of anxiety and depression.
It's important to note that hemp seed oil does not contain any significant amount of CBD (cannabidiol) which is a compound found in other parts of the hemp plant that is known for its medicinal properties.
See our Hempseed Oil HERE